Here are two problems you might find yourself in whether you are experienced or not experienced in fighting, self-defense and martial arts:
1.  You have no self-defense strategy, much less, no self-defense training to defend yourself. At best Youtube videos are a little informative, but there is no organization.
OR
2.  You have too many self-defense techniques, moves and knowledge… if you really think about it, you'll probably freeze under the "paralysis of analysis" because you know too many ways on how to deal with an attacker.
The martial arts master Bruce Lee, who is just not "the" action film icon, but a true street fighter, taught on "The 5 Ways of Attack". Although this ground breaking fighting method has been around for a while in different forms, it can be used as an unstoppable fighting strategy which can
Bring your fighting game up to a new level.
What you need is a solid self-defense strategy to either give you the tools (if you don't have any), or organize your techniques (if you're a seasoned practitioner) into functional, practical blitzes on anyone who dares attacks you (or your loved ones)!
I've recently expanded this program to cover all FIVE areas of self-defense (all also refer to these as "ranges"). Yes, I said FIVE. If you only know one or even a few, you really have holes in your self-defense skills. This program not only gives you a sure fire strategy, but helps you adapt it to every "area or range" of fighting.
This DVD program will give you both the tools and strategy so you know what to do and when to do it!
Here is a small sample of what you'll learn in a quick 2 hours: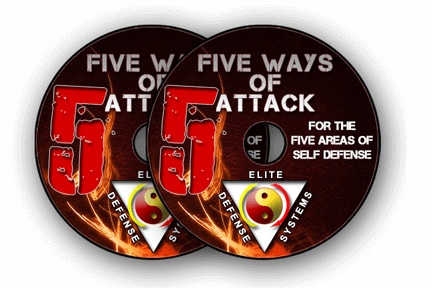 How to "gain intel" on your opponent in the first couple seconds which will lead to their downfall! You'll know what level your opponent is at and which strategy to use!

Learn a handful of "single strike" moves to simplify your arsenal, and take out any thug quickly.

Help you organize the information you do know into a laser focused counter attack plan!

Find out the easy (but unknown to many) secret of "ABC", using lightning fast combination moves, which will attack multiple areas of your opponent's body.

Discover the different "quadrants" and "levels" of the body, and how to use that to your advantage.

Get down the one move all pro fighters have mastered (and how you can master it in a very short time)!

Learn the "hitting hands" method of fighting (advanced strategies beginners can do too!)

Know how to create gapping openings on your opponent's defense, which translate into easy and painful targets.
Although other instructors and programs have been teaching on this 5 in 1 fighting strategy for years, here are some things you will rarely find anywhere else:
How to transition the 5 Ways of Attack into the 5 Areas of Combat regardless of your skill level!

Learn what are the 5 Areas of Combat, and how to use each of the 5 strategies in each combative scenario.

Why most martial arts are using the wrong strategy in weapon's defense (and what the right one is, saving you decades of training)!

How to use these strategies in ground fighting, where you can easily dominate opponents who are bigger and stronger.

Learn the secret range of combat, and how you can fight way outside of your weight class (and skill level)!

How to apply this knowledge to Mass Attacks, where multiple people are coming after you!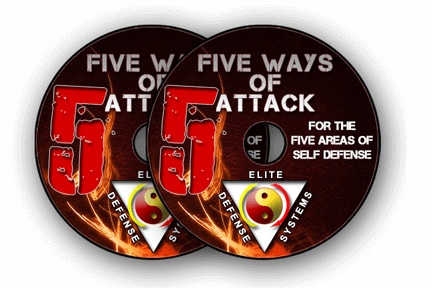 Once again, that is just a sample of what you'll learn.
This training was professionally tapped during a private group training session of beginner level students, so you know I made sure to spell everything out.
GET THIS NEEDED TRAINING FAST, WITHOUT PAYING A LOT!
I've made it extremely EASY and CHEAP to learn this knowledge. You don't have to travel out to me, or pay the high fee these attendees had to come up with. What is the fee for this video series you ask? It is not $500, or even half of that at $250 (which would be a steal). I want to do two things which will make this decision a no-brainer.
First, I've made it easy and mobile, so you can watch it anywhere, even on your mobile devices. I've also made it simple and instant, where you can start watching it right after you purchased it. You'll get a secret passcode to our download page so you can start watching and learning in minutes from right now.
Second, if you ask any instructor who knows this information, they'll tell you it would take them several months to teach you… maybe a month if you're a fast learner. So how much would that cost in lessons? $100 or maybe $200? Learning it through this program's way, you can learn at your own pace, and watch the lessons over and over.
If you take action now you can get it for only $59. I'll Also Include these amazing programs
That is a fraction of what the attendees paid, so this price is limited.
If You Order Today, I'll Also Include The Video Program And Manual: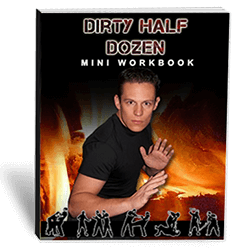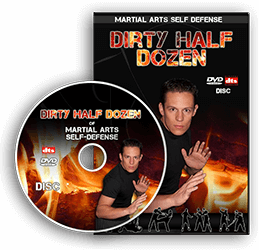 The Half Dozen Dirty Secrets Other Martial Arts Schools Don't Want You To Know
As a bonus if you order this course today, I'll also send you a video program I've developed to help you find the best martial arts school or self-defense moves on the market today.
The program you're about to invest in will go much deeper than 98% of martial arts schools out there, but if you did want to join a school or academy, here is what you want to be looking for.  This program is also great to find out which is a good, bad or "ugly" program on the internet.
Here are some other things you'll learn:
What are the 3 types of schools and martial arts programs out there so you don't get stuck in the wrong program
What are the three major reasons why people attend classes, and how identifying your "main" goal will help you reach it faster, saving you time
How knowing all of the areas of combat or ranges of fighting will help you find the perfect lessons for you
What is the difference between learning a technique or developing an attribute, so you don't fail by becoming just a "martial arts encyclopedia"
Three questions you must answer about each program (this will save you tons of money)
Tons more!
Once again, this video course and guide is completely free if you order (insert program) right now!  I usually sell this incredibly helpful program for $29, because it will save you at least triple that – and hours if not years of getting stuck with the wrong program.
Click the button below to get this program free with the Five Ways of Attack.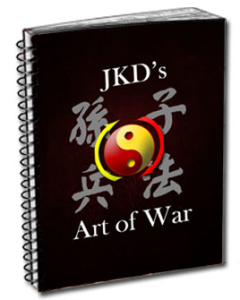 If you make this small investment, I'll even though in my most popular unedited article which has been internationally published, and used in the famous "The Ultimate Guide to Jeet Kune Do" book. This uses Sun Tzu's Art of War strategies, and shows you how they agree with Bruce Lee's Jeet Kune Do secrets, and how to use them in combination in street fights.
I say "unedited", because there are a bunch of tips I did not put in the copy I handed to the publishers. I'll include this unedited version of "JKD's Art of War" if you order now, so you can see how ancient war fighting strategies can give you an edge out in the street.
CLICK HERE to order the 2 DVDs Instant Version, so you can start learning in minutes.
Once again, you'll get over 2 hours of instruction, and then the mini e-book of "JKD's Art of War".
But Wait, If You Don't Like It … Return It!
Take 30 days out. Watch it, train with it, watch it again, take notes, learn all 5 strategies, find out how to apply them to all five areas of combat.
In the end, if it doesn't meet your standards, return it. Let us know you want a refund, and we'll turn off your secret access passcode. Fair enough? Just for trying, keep the mini e-book as my gift to you.
I think you'll find out regardless of your expertise (or lack of), you'll be able to learn new techniques and develop a power plan of attack and counter attack! If you already have an arsenal of solid self-defense tools, this program will show you how to use them properly in a killer self-defensive approach.
If you take action now you can get it for only $59. I'll Also Include these amazing programs
That is a fraction of what the attendees paid, so this price is limited.